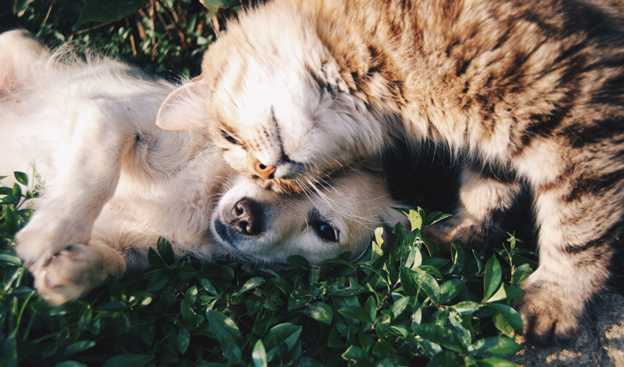 Image via Pexels
Post by Shelley Bowling
A Guide to Downsizing Smoothly With Your Pets
There are many bonuses to switching to a smaller home, including fewer expenses and upkeep. Downsizing can also be a part of a larger lifestyle switch to a simpler life. If you have pets, however, they won't see things from quite the same perspective. Your pets, likely, will simply become aware that things are changing rapidly, your house is suddenly chaotic and possibly full of strangers coming in and out, and suddenly they are in a new space that is not only unfamiliar but smaller.
With that in mind, Paws n Claws Foundation shares some guidelines for keeping your furry, scaly, or feathery friend happy during your move, and as you settle in your new, smaller abode.
Figure out wants and needs
When you look for your new residence, have a clear picture of what characteristics are non-negotiable, and which are merely desirable for both you and your pets. For instance, it may be necessary for you to find a new home that is located at a reasonable distance from your place of employment. For your pets, you may need a sizable yard for the dog and perfect corner for your parakeet. In the arena of wants, you may be looking for a home with a particular style that suits your personal aesthetic. For your pets, on the other hand, you may be hoping to find a place that is conveniently located near your favorite park, or your vet.
Determine what you can afford
If you are downsizing to save money, you may be hoping to still have a decent amount of space inside and out. So, check out property values in different neighborhoods, and see what you can reasonably expect to buy in terms of size, location, and amenities.
If you are downsizing to simplify, focus on other characteristics you are looking for when determining what fits your budget. This goes for moving into a smaller rental home or apartment. The good news is that you have plenty of options when it comes to square footage and amenities in apartment complexes: there are a couple dozen available houses for rent in Vero Beach. If you need to get a mortgage to purchase your new home, be sure to read up on the process and acquaint yourself with the going rates, depending on the type of loan you want.
Putting your house on the market
Selling your house can be even more of a headache than hunting for a new one. Find a good agent you can trust, early on, since they'll take care of a lot of the legwork for you. You will also want to arrange for a home inspection prior to the sale, to better determine how much you can ask. When staging your house for sale, try to keep your pet out of the way, both for the sake of their own stress levels and because it's better to keep home pictures as neutral as possible.
Preparing your pet for your move
Packing up for a move is never easy or stress-free, but it's important for you to try to keep the stress element from affecting your pets. Of course, some pets are easy-going and just accept whatever comes their way. Many others are sensitive, however, and find change disruptive. In this case, it might be wise to make arrangements with a pet sitter or kennel to keep your pets safely out of the way of the bustle, on moving day.
Make sure you have all your pet's favorite foods and comfort items easily accessible and pack extras of anything you'll need during the move itself. Also, you should make sure you have located a good vet in the area you are moving to, as well as any groomers, sitters, or other pet care providers whose services you may require.
If you need to purchase additional accessories or items for your pet as part of your move, check out product reviews from vets before making a purchase to ensure you choose the safest cage, harness or carrier. You'll be able to purchase with confidence knowing that a veterinarian has approved a given product.
Other moving day preparations
A smooth moving day takes a lot of prep, beginning months in advance. That's why it's critical to make a checklist so you can prioritize accordingly. Start by breaking everything down into manageable tasks. It can all be pretty overwhelming if you leave it until the last minute. But if you write out a schedule of tasks, and check them off methodically, the process will be less stressful for you and for your pet.
This should include finding and contracting with a moving company, decluttering your home, getting rid of junk, donating excess belongings, packing what you intend to take with you, scheduling utility shutoff, and taking care of address changes. For a list of movers, search online for 'moving companies near me'. You can read reviews from customers of various companies to find out about their quality of service. Once you find a few that look promising, reach out to them to get a quote. Professional movers can make moving days much less stressful.
Keeping your pet happy on moving day
Whether your pets stay with you or with a pet sitter is up to you; you will need to figure out which option will be less disruptive for them and easier for you. Some things you can do to keep your pets calm and happy include setting them up in their own space with their favorite toys or comfort items, taking them for walks, or asking a friend to help by keeping them entertained. When it is time for the actual move, set your pets up comfortably, and have a place prepared for them at your new home, with familiar objects so the new setting is not too jarring.
Settling into a smaller house
Let your pets get used to the new house slowly, one room at a time, so they don't get overwhelmed and can explore their surroundings on their own terms. Try to reinstate your routine as soon as possible, keeping everything as unchanged as possible, from your prior residence. Make a point to pet-proof your home too. This means keeping cords wrapped up, ensuring no small objects are on the floor and securing anything heavy.
Getting your pets used to your new home may take a little time, so don't push it. Just stick with them and give them plenty of attention, affection, and support as they get adjusted to things. If possible, try not to leave your pets home alone for very long, during your first few days in your smaller house. If they don't have the room to move around inside or in the yard that they used to have, try to find a park or other outdoor area where your pets can play and burn off energy.
Downsizing your home doesn't have to be difficult or traumatic for your pet if you anticipate challenges and plan to meet them, and remain aware of your pet's needs during the process.
Donate to Paws n Claws Foundation today to support our mission of reducing pet euthanasia and promoting pet adoption!
https://www.pawsnclawsfoundation.org/wp-content/uploads/2023/09/PnC-Header-Logo-2023.png
0
0
webmaster
https://www.pawsnclawsfoundation.org/wp-content/uploads/2023/09/PnC-Header-Logo-2023.png
webmaster
2022-08-23 18:35:02
2022-09-22 04:04:27
A Guide to Downsizing Smoothly With Your Pets